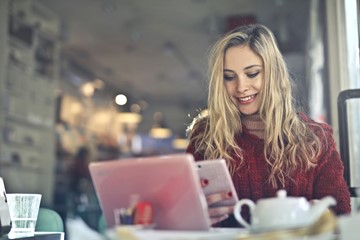 If you love dining out, but you're now more safety conscious than before, you might feel like you're in a hopeless situation. You know you can use one of those popular apps to order food and pick it up or have it delivered, but you're sick of eating restaurant food in your own living room! Wouldn't it be nice to sit at a table in a relaxed atmosphere, be waited on by friendly servers, and not have to do any clean up afterward? You miss all of that…but how can you go back to restaurants when you're still worried about contagious germs and viruses that might be here to stay?
The answer is simple: contactless dining made possible with innovative (but simple!) technology.
What Is Contactless Dining?
A contactless dining experience is made possible by restaurants using innovative technology. You use your personal smart phone device to do everything (except eat!), minimizing or eliminating the contact you make with other people and shared items like menus and card swipers.
With contactless dining, an app on your smart phone or computer takes the place of touching items that used to be unavoidable when dining in. New apps make it possible to have a no-touch experience at your favorite restaurant. That's right—you really can enjoy an in-person dining experience that's virtually as touch-free as app-based meal delivery and pick-up!
No More Sticky Menus
Instead of ordering from a menu given to you by a server that's been handled by countless unknown customers, you view the restaurant menu online in a browser or app. You might place your order ahead of time from home or the office or while on the go, or after being seated at the table by the host or hostess. You'll use your tablet or smart phone in the restaurant, or even your laptop or desktop computer if you pre-order.
The ideal online ordering app will let you browse menu items, look at photos, read detailed descriptions, and view prices. You'll be able to customize your order and make special requests in exactly the same way you would if you were telling your order to a server. If you're ordering for multiple people at once, a great app will let you assign names to each dish so when you arrive at the restaurant, your server can call you each by name and make sure you get the right order with all the personal requests. ("I've got a cheeseburger, medium rare with extra onions for Jack, and a BLT with mayo on the side for Jill…here you go!")
The best ordering app will also let you select your table ahead of time–for example, a table indoors or one on the patio–as well as specify any special accommodations needed, such as a highchair or booster seat, or room for a wheelchair.
An app that facilitates a superior contactless experience should also let you tell the restaurant what time you'll be arriving. That way, when you get there, you don't have to stand around in a crowded waiting area with other guests–you'll be seated right away at the table that's already been set up for you. You won't wait long for your meal either because the moment you place your order it will go straight to the kitchen, and they'll know exactly when to start preparing it to have it ready when you arrive. Overall, enjoying an ideal contactless dining experience means spending more time eating and less time waiting around, minimizing your exposure to others seated nearby.
Contactless Payment Means Even Fewer Touchpoints
Contactless dining eliminates several other touchpoints by allowing you to pay and tip right inside the app. You won't have to handle cash, or hand over your card to a server or cashier. You won't have to touch a card swiper or enter your pin on a keypad used by everyone else. You won't have to touch the receipt brought to you by the server and then use a shared pen to sign it. You won't have to touch anything at all to settle your bill.
Instead, you'll pay using your own phone and leave when you're done. In fact, with the best app, you can even pre-pay when you order so the only thing left to do after you eat is tip—using the app, of course! Not only will you minimize contact with items touched by other people, but you'll also minimize the time you spend in close proximity to other guests. When you're finished with your meal, you can leave when you're ready. For those worried about exposure, this is a double benefit.
With a contactless dining experience, you get to enjoy all the fun and perks of eating out and still feel comfortable knowing you're minimizing your exposure.
How to Enjoy Contactless Dining at Your Favorite Restaurants
There are a few online ordering apps out there, but it seems like they're focused on what makes it easy for the restaurant instead of what makes it easy for YOU—the customer. The ideal app keeps both the business AND the guest in mind, and at aBitNow, we pride ourselves on having created a solution that does just that.
So If you miss eating out at your favorite restaurants and would love to return as soon as they can provide a contactless dining experience, tell them about aBitNow. In the meantime, go to our registration page and register as a new aBitNow user, and nominate some of your favorite eateries to join aBitNow today. You can win $250 just for registering!